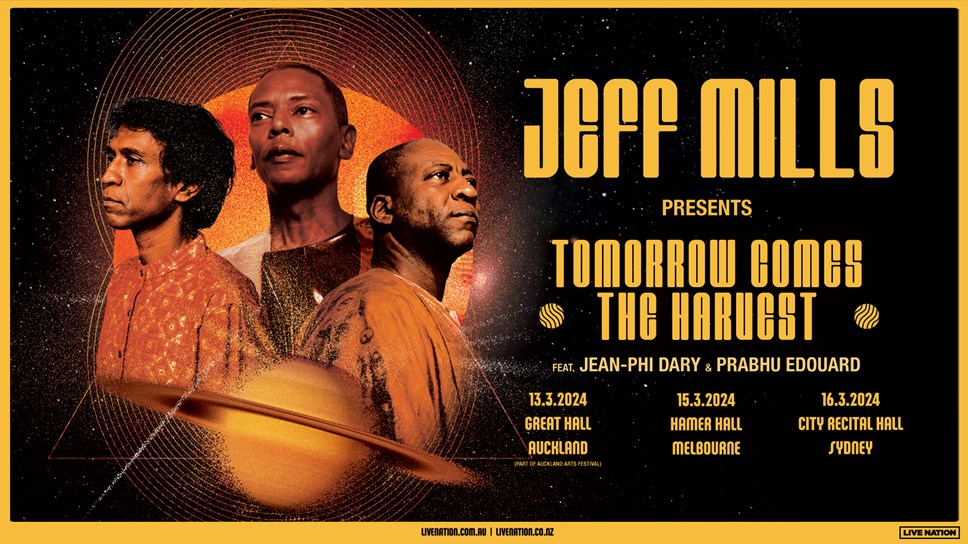 Jeff Mills announces 'Tomorrow Comes the Harvest' debut Australian shows in March 2024
MELBOURNE, AU (NOV 15, 2023) – Acclaimed DJ and producer JEFF MILLS is debuting his live project 'Tomorrow Comes The Harvest' in Australia in March 2024. He will be performing together with French keyboardist Jean-Phi Dary and table virtuoso Prabhu Edouard. The tour will be coming to Melbourne's Hamer Hall and Sydney's City Recital Hall (co-presented by City Recital Hall).
Tickets go on sale at 1pm on Friday November 17.
My Live Nation members can secure tickets first during the exclusive pre-sale beginning 1pm Thursday November 16.
For complete tour and ticket information, visit: livenation.com.au
ABOUT JEFF MILLS:
Jeff Mills has never wallowed in his DJ status and kept on multiplying outstanding performances, at the intersection between music, contemporary art, pop culture, design and science fiction, while running his own record label, Axis Records, since 1992 onwards. After conquering Detroit's early Techno scene as The Wizard in the 80s, as a part of the Underground Resistance, he took up with his prime inspiration, Space and Science-Fiction. The 2000's marked a turning point, when he started to merge his music with other art forms. He decided to create a new soundtrack for Fritz Lang's "Metropolis", which brought him to many other cine-mix performances and movies soundtracks. As a plastician, Jeff Mills has shown numerous of his performances and exhibitions in artistic institutions such as the CCCB of Barcelona, the South Bank Center, the Barbican Center, the Cinémathèque Française, Pompidou Center, the Art Fair Monte Carlo...
ABOUT TOMORROW COMES THE HARVEST:
Tomorrow Comes The Harvest is the accumulative efforts of talented musicians and their visions about what makes the art form of music so special.
A theory initiated and put into action by late Afro Beat creator and Nigerian Drummer Tony Allen and Detroit Techno's Jeff Mills. Each belonging to a long tradition of using music to reach higher levels of consciousness, along with veteran keyboardist Jean - Phi Dary, the three toured internationally until the untimely death of Tony Allen in 2020. However, the foundation of the concept was cemented and ready for continuation.
Mills reconfigures the concept to function as trio once again and invites Tabla virtuoso Prabhu Edouard to join the concept. A second album was released in September of this year, which they've been touring across European festivals and theatres.
Tomorrow Comes The Harvest is about exploring the unknown, transcending by the way of intersecting sounds and rhythm through an array of improvisational movements.

Mills has proven himself as not just one of the founders of Detroit techno, but also as a highly sought after artist in the contemporary music space. Tomorrow Comes The Harvest promises to showcase the best of both worlds, and is an experience not to be missed.
JEFF MILLS
PRESENTS TOMORROW COMES THE HARVEST
FEAT. JEAN-PHI DARY AND PRABHU EDOUARD
AUSTRALIA 2024
HAMER HALL, MELBOURNE
FRIDAY MARCH 15
CITY RECITAL HALL, SYDNEY
SATURDAY MARCH 16
TICKETS ON SALE 1PM FRI NOV 17
Live Nation pre-sale: Thu 16 Nov 1pm – Fri 17 Nov 1pm
For complete tour and ticket information, visit: livenation.com.au
For all tour-related enquiries, contact:
Live Nation Australasia
Marie Lebourdais
+61 420 359 558
marie.lebourdais@livenation.com.au
Live Nation Australasia
Arlo Flitcroft