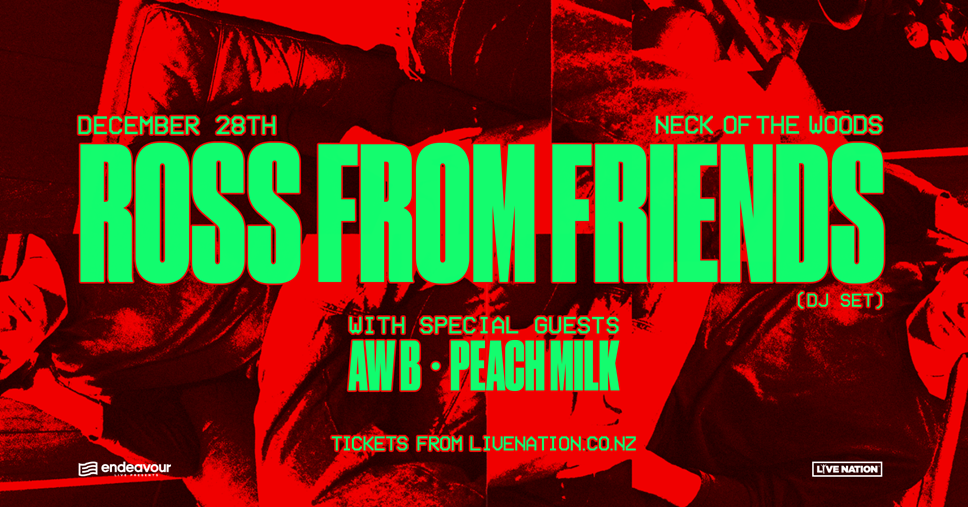 Ross From Friends Announces Auckland Club Show
The acclaimed British producer and DJ's only festival sideshow while in NZ
AUCKLAND, NZ (OCT 17, 2023) – Globally renowned electronic producer Ross From Friends today announces a special club show in Auckland. This comes in addition to already announced festival performances at Rhythm & Vines and Rhythm & Alps.
The British wunderkind will deliver a one-off DJ set at Neck of the Woods on Thursday December 28, supported by special guests Aw B and Peach Milk.
Limited pe-sale tickets are expected to sell out. Earlybirds are on sale 10am, Thursday October 19.
For complete tour and ticket information, visit: livenation.co.nz


ABOUT ROSS FROM FRIENDS
Prolific U.K. house producer Ross from Friends makes intricately detailed tracks that display an emotive ear for melody. He first appeared in 2012, but it was 2015's breakout release Talk to Me You'll Understand that put him at the forefront of a burgeoning trend towards lo-fi house. His debut album, Family Portrait, appeared in 2018 and he gradually sharpened and expanded his sound through subsequent releases such as 2021's follow up LP, Tread.
In April 2023 Ross From Friends released his first single in nearly two years, The One, via his own imprint Scarlet Tiger. The track builds on his craftsmanship of emotive storytelling through ever-increasing danceability, and leans on a bouncy two-step rhythm before building into his signature euphoric, soaring synths.
Backing up his first class production credits, Ross From Friends is revered in electronic circles around the world for his high energy, far ranging DJ sets. Expect a set that traverses genres, tempos and moods – not to be missed.


ROSS FROM FRIENDS (DJ SET)
NEW ZEALAND 2023
NECK OF THE WOODS, AUCKLAND THU DEC 28
RHYTHM & VINES, GISBORNE* FRI DEC 29
RHYTHM & ALPS, WANAKA* SAT DEC 30


TICKETS ON SALE 10AM THURSDAY OCTOBER 19
*FESTIVALS ALREADY ON SALE, VISIT FESTIVAL WEBSITES FOR MORE DETAILS
For complete tour and ticket information, visit: livenation.co.nz